| | | | | |
| --- | --- | --- | --- | --- |
| | | | | November 21, 2013 |

~ Special Edition ~

NEW YEAR'S EVE AT CITY WINERY IN NYC!
2 COMPLETELY DIFFERENT SHOWS ADDED:

12/31 - Early Show (7 p.m.)
Help! in its entirety, and more!
(VIP dinner package available)

12/31 - Late Show (10 p.m.)
An incredible mix of Beatles favorites!
(VIP dinner package available)



Limited seating still available for these shows announced earlier:

12/27 - A Hard Days Night + more
12/28 - Let it Be (Naked) + more
12/29 - Rubber Soul + more
12/30 - Meet The Beatles + more

---
1962

Performance at the Cavern, with Johnny Templer and The Hi-Cats, and the Zodiacs.

1964

'A Hard Day's Night' LP number 1, 18th week (UK Record Retailer chart).

1967

76 Old Compton Street, 1st floor, London. Norman's Film Production. Roy Benson and the Beatles session for cutting the 'Magical Mystery Tour' film. They are filmed by a BBC crew.
---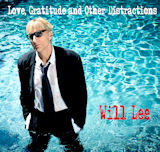 Check out Will's all-new website at willlee.com.

Will's new album, Love, Gratitude and Other Distractions, is now available! Will's latest video (feat. Billy Gibbons) here: 'Get Out Of My Life Woman'


---
Stop by Jimmy Vivino's official site for details on upcoming shows and projects.



11/30: Prisoners of 2nd Avenue (Rich Pagano, Jimmy Vivino, John Conte) with guest Paul Shaffer at BB KINGS, NYC

12/6: Come on up to Santa Barbara and Help us help the kids get funding for music through "Notes For Notes"
3rd Annual Benefit Concert for Notes for Notes
Featuring Jimmy Vivino & the Basic Cable band w/ Slash, Robert Randolph

'Jimmy Vivino & the Black Italians - 13 LIVE' CD now available at vivinomusic.com.

---
Go to Rich's newsletter to get info on upcoming events including:

EARLY ELTON:
11/21 - Rockwood Music Hall, NYC
11/22 - Budarz Theatre at the Ossining Public Library
PRISONERS OF 2ND AVENUE:
11/30 - BB KINGS, NYC with Paul Shaffer!
- plus
12/6 - 33rd Annual John Lennon Tribute with special guests
3/2 - Singing/Drumming Lecture in Easton, PA
---
---
The Fab Faux are:
Will Lee, Jimmy Vivino, Rich Pagano,
Frank Agnello and Jack Petruzzelli.

The Fab Faux booking info:
Contact Rich Pagano at Newcalcutta@aol.com.
Love Is All You Need,


The Fab Faux